Malaysia Accounting Software
Tansform
Voluminous Accounting Data
Into Insightful Information
that
Empowers You
To Make Smarter
Business Decisions.
Biztak Management Software gives you features
 found in higher-end software.
Biztrak Business Management Software combines professional accounting functionality with easy-to-use business management tools that enable businesses to determine business conditions more accurately so as to make better, timelier and more cost-effective decisions. It serves as a powerful foundation for the suite of business management software offered.
Here are some accounting concerns that
Biztrak software overcome
Here's a brief description of each one:
We have to work late to finish our project profit and Loss. Our Directors need report to make decision?
"Assignment of income and expenses to each project during data entry. Information updated instantly. Get all updated reports instantly."
Cost Center Setup for Branches, departmental or division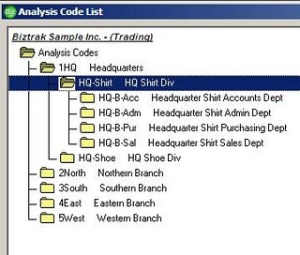 Cost Center Setup for Construction or Project Industries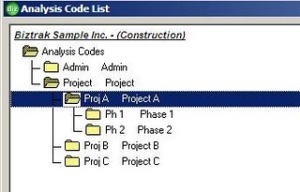 I cannot focus on my job because I am always doing other department's.
"A fully integrated system means you no longer need to re-enter information entered by other department."
I'm always struggling to make adjustment because I make a mistake in posting transaction into wrong account.
"Biztrak accounts Software is flexible and easy to use. Retrieve the said transaction, adjust account data to the correct account code. All the adjustment is recorded in audit trail report."
I'm always struggling to find invoice and payment histories when making a check for multiple invoices.
"Reconcile report on payment against invoices for both vendors and debtors is available in Business Management Software. No checking is required as the historical reconcile report is available at anytime."
I need to print many customer statement every month to mail to customer.
" Customer statement and most of the report is emailed enabled. It is paperless. The customer statement can be sent to the customer by email.
I am not able to justify the accounting transactions that I recorded.
"An audit trail report show the transactions record and modification by individual user. It helps you to trace when and why the transactions occurred."
I have difficulty in managing credit control of my customer aging report is only available at month end.
"Customer information is updated in real-time based on all business transaction. Allows real time access to critical information. Allows quick credit checks at any point of time to maintain tighter credit control. "
I take a long time to prepare my bank reconciliation because I need to type the bank transactions in the spreadsheet.
"You can prepare you monthly bank reconciliation in the system with quick and easy way. Just tick on payment which has be presented or cleared from the bank."
I am always strugging to record disposal of fixed assets because I need to calculate the accumulated depreciation, gain and loss on disposal and journal entries.
"You just need to perform 2 steps data entry as shown below. Select which asset to dispose, record the date of disposal and the disposal amount. Others will be taken care by the system. "
Fixed asset disposal
Step 1  – Record date, amount, bank / cash and gain/loss on disposal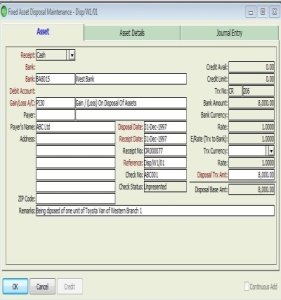 Step 2. Select Asset and amount, system auto generate gain / loss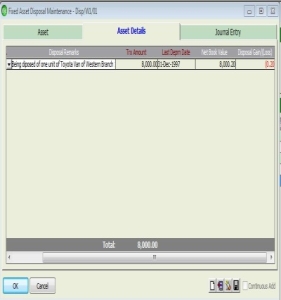 Accounting transaction auto update general ledger and asset register book. Journal Entry after record step 1 and step 2.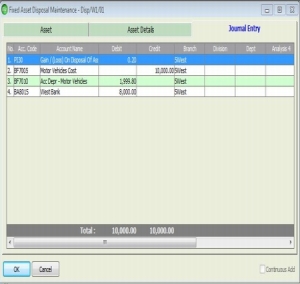 I am struggling to produce my fixed assets report because I need to update the list of fixed assets in the spreadsheet, I need calculate depreciation, accumulated depreciation of each assets.
"The depreciation and accumulated depreciation is auto generated by the system monthly. Up-to- date fixed asset report is available at anytime."
I need to print thick monthly management report to my parent company abroad.
"Most of our customer send the report by email as most of the report is emailed enabled. It is paperless. The report reach the interested party instantly."
I cannot submit monthly management report timely as I need to wait till month end to record all the transactions and reconciliation.

"The software is an online and real time accounting system. Accounting information is updated in real-time based on all business transactions of your company. Management report is available at any report is available at any time. No reconciliation is required as it is an integrated, online and real time system. "
I need to issue a lot checks each month. It takes up a lot of time and there is a lot of wastage.
" The Accounting Software come with print check function. It prints on pre-printed checks. function. It prints on pre-printed checks. You do not need to re-enter any information. The check will print base on information record during issue payment voucher."
We have problem to keep track of our lot or batch number of fabric sold to customers.
"The sytem is able to keep track of each batch number. "
We have problem to keep track of our product expiry date.
"Biztrak Software is able to keep track of each batch number of products as well as expiry date of each batch of products.  "